Hello, and welcome to ValveTime Articles. Today is August 24, 2016. On this same date twenty years ago, August 24, 1996, Gabe Newell and Mike Harrington founded Valve. To celebrate this special anniversary, we're going to talk about two never-before-seen documents from the development of the original Half-Life.
Half-Life Alpha version .61 notes
This is a help document that was created for the Half-Life Alpha version .61 and is dated August 26, 1998, three months before the game's release. We received it from an individual who worked at Sierra's UK division. It was meant for employees at Sierra, then publisher for Valve, providing information on how to market and advertise the game. The file includes an overview, a walkthrough, description of locations, weapons, items, enemies, technologies, and other behind the scenes information, as well as information collected from various internet sources. You might recognize some of the sections from the Alpha version 0.52 which was made public on January 8, 2013.
Click here to download the file.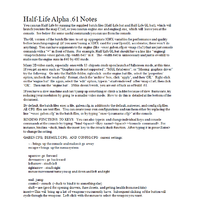 ​
Marc Laidlaw's unused proposal for the ending
This is an early draft for the conclusion chapter of the game. In this version, rather than traveling through multiple locations on Xen, Gordon Freeman was to teleport to a human administrative setting after defeating the Nihilanth. High windows along one wall allowed a glimpse of a terrestrial sky, revealing he was back on Earth. Along the other side of the room was a line of locked doors, The noises of the waiting alien creatures could be heard from the outside hallway. The G-Man would walk towards the player and address him. His dialog is identical to the final version.
After his speech, the G-Man was to open his briefcase and summon a dimensional gate from within. As in the final game, the player could accept his offer by stepping into the portal. If declined, the G-Man was to shut his case, go translucent, and disappear completely. As soon as he vanishes, the doors would open and the last alien survivors would swarm the player.
Click here to download the file.
We contacted Marc Laidlaw, the former writer of the series, to learn his thoughts. According to him, it was easier to build the train interior used in the finished scene, and this setting presented a suitable parallel with the opening. The environment described in his script was just a suggestion as the final decision would have been left to the level designer. Laidlaw believes that the train was ultimately the better idea.
He says they used to joke that the G-Man might have a teleporter in his briefcase and would open it up and step into it himself. However, they couldn't figure out a way to actually get a teleporter in there, leaving the concept to go unrealized. At one point, one of the modelers had placed a cheese sandwich inside the case as a joke.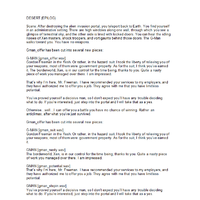 ​
Credits
Barney and Marphy Black
Special Thanks
Marc Laidlaw for answering our questions
Anonymous former Sierra employee for the help document
Last edited by a moderator: